Why did God deliberately close Hannah's womb? This writing will discuss only the birth of Samuel, Israel's last judge (Acts 13:20), and the first prophet whom God used to anoint the first 2 kings of Israel, Saul, and David.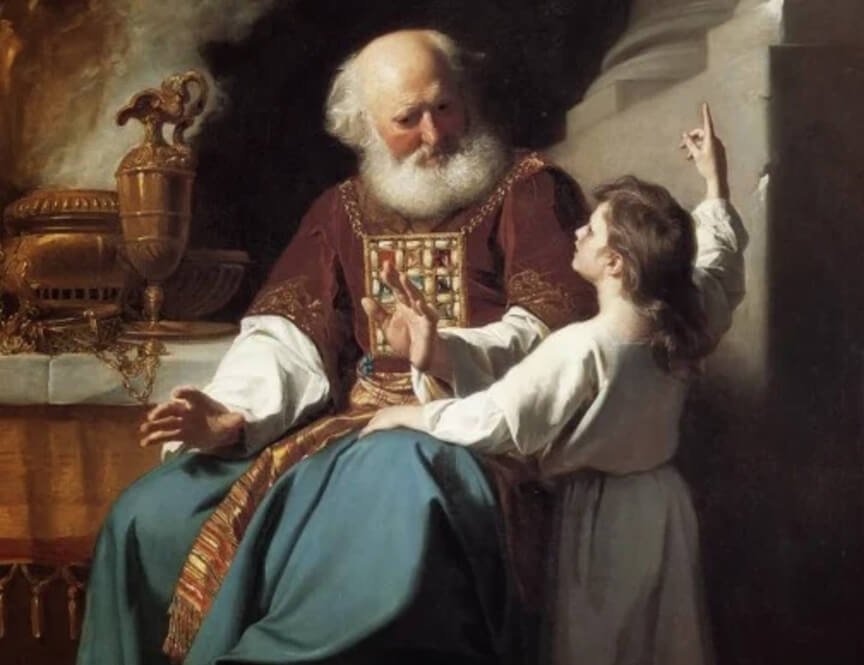 His name means, His Name is El, God (El) hears, 1 Samuel 1:20. He was born to a mother named Hannah and a father named Elkanah. Hannah itself means grace. Samuel was the first of 6 children, 4 boys, and 2 girls, 1 Samuel 2:21.
But Hannah, like most of the wives of Bible characters, was originally described as barren, without a child. The Bible even mentions that God himself closed the womb, 1 Samuel 1:5 ESV, though the LORD had closed her womb. It should be noted that the verse in the Indonesian version (and even in the Bible Basic English) gives a wrong impression. Even though he loved Hannah, he gave Hannah only one part, because the LORD had closed her womb. In many different translations it is stated that to Hannah, her husband Elkanah gave 2 portions, a double portion, because of his love for her. Or in the KJV translation, it said a worthy portion, the word worthy shows that although it was only one portion, it is the best portion that her husband gave because of his love for her. Maybe the word only in Indonesian translation shouldn't be there.
Yes, just like Sarai, Rebekah, Rachel, Hannah was also barren, they couldn't have children. What is even more puzzling is that her inability to have children is part of God's deliberate act of closing her womb. Why is that? And apparently, because she couldn't have children, Elkanah then had a reason to remarry. 1 Samuel 1:2, indicates that Peninnah was mentioned only after Hannah. To make things worse, Peninnah, who gave birth to Elkanah's children, always hurt her heart. Another translation states that Peninah always tortured her cruelly (by word of mouth) and never let Hannah forget that God had made her childless. A rivalry, a classic competition between 2 women.
Samuel came from the tribe of Levi, although his family lived in the mountainous area of Ephraim, of the sons of the Kohathites: Heman the singer the son of Joel, son of Samuel, son of Elkanah, son of Jeroham, son of Eliel, son of Toah, was a descendant of Levi from the Kohath clan, the second son of Levi. 1 Chronicles 6:26-35. Yes, Levi did not inherit the land of the nation of Israel because they were a tribe that served God's temple, the tabernacle of Moses. But they got cities where they could live and raise livestock. Numbers 35:1-8. Samuel himself came from the descendants of Aminadab (Yizhar), the 2nd son of Kehat, 1 Chronicles 6:18, 22. Meanwhile, the priest Eli came from the descendant of Itamar, his son was Harun, the son of Amram, the 1st son of Kehat. And Kohath was the second son of Levi. 1 Chronicles 6:16.
Yes, so Samuel was from the tribe of Levi who lived in the mountainous area of Ephraim, not an Ephraimites. Samuel was not a descendant of Joseph (Ephraim's father), he was only from the mountainous area of Ephraim.
Back to Samuel's mother, Hannah, why did God deliberately close her womb? 1 Samuel 1:5-6. Isn't He the God who does not tempt men, James 1:13, for God cannot be tempted with evil, and he himself tempts no one? Nor did He plan evil against us, Jeremiah 29:11, to give you a future and a hope.
In the translation of The Message James 1:13 reads like this, don't let anyone under pressure to give in to evil say, "God is trying to trip me up." God is impervious to evil, and puts evil in no one's way. Yes, the Lord has never harmed us. But He knows exactly how we should be led in His ways.
Hannah's barrenness in those days was a picture of Israel's barrenness. The absence of God's Word, or very rarely, indicates that Israel was going through such spiritual desolation, a spiritual drought!. 1 Samuel 3:1 ESV, And the word of the LORD was rare in those days; there was no frequent vision. No widespread revelation, in NKJV. This is also because of what happened in the house of God, 1 Samuel 2:12 describes how the two sons of Priest Eli, Hophni, and Phinehas were mentioned as corrupt, evil, destructive, wicked, and even immoral. They didn't know God. They took the Israelites' offering, 1 Samuel 2:13-16. They were very sinful before God because they had defiled, despised, and insulted the sacrifice. In verse 22, it states that they slept with the women who served at the door of the tabernacle. Eli did rebuke them, in verses 23-25, but they ignored their father's rebuke. Priest Eli, as father and a priest, should have disciplined them as harshly as he should.
To make matters worse, Eli apparently enjoyed his sons' action (1 Samuel 2:13-16). The rebuke of a servant of God, 1 Samuel 2:29, Why then do you scorn my sacrifices and my offerings that I commanded for my dwelling, and honor your sons above me by fattening yourselves on the choicest parts of every offering of my people Israel?' This rebuke shows how Eli looked greedily at the offering that was meant for God. And he was more afraid of his children, more respectful of them than fearing God and honoring His Word. He became very fat (1 Samuel 4:18) and his eyes became blurry (is it because of old age or diabetic? 1 Samuel 3:2).
Continue reading …
Hophni and Phinehas, are mentioned in 1 Samuel 1:3 the first time. The name Hophni in Hebrew word means pugilist, a mercenary boxer. This name shows his character who likes to play with his hands, to hit, to box, and thirst for money. While Phinehas means the mouth of a serpent or the mouth of brass. Someone who is good at speaking with tongues and has a strong word. It is inconceivable how the House of God these days was ruled by someone who likes to beat others and someone who is smart to twist the conversation, people who are greedy and lustful of crime, crazy for money, thirsty for sex, and brutal. Interestingly enough, the names of these two are actually the names of Egyptians names. Are they coming from the House of Pharaoh? Part of the Royal House of Egypt? Could it be Eli's wife was an Egyptian? Read 1 Samuel 2:27.
When the House of God was so contaminated with evil and wickedness, you could then imagine how dry the spiritual lives of the Israelites were at that time, how barren were they before the Lord. These are God's cries and grief, just like the cry and grief of the barren Hannah. 1 Samuel 1:7, 8, 10, 15. Hannah's cries and grief gave birth to a prayer that went up before the Lord, a prayer of submission asking the Lord's grace for a child, 1 Samuel 1:11. God answered her cry by giving Samuel, a prophet, an answer to God's own grief, 1 Samuel 1:19.
Why did God deliberately close her womb? A different answer might just point to God's timing had not yet come for Hannah to have children. God deliberately closed it so that Samuel's birth would coincide with Samuel's appearance as a prophet of God. But this answer will raise more questions, such as why did Hannah have to suffer because of Peninnah? She would also have no need to pray desperately and even made a Nazarite vow to give the firstborn back to God. Wouldn't she still have children in the future, right?! It seems that answer in this paragraph is not quite right.
Indeed, The Lord's ways are full of mysteries and cannot be understood often. However, what's unique is that every path of God will always introduce Himself in a new dimension that will be understood by those who willingly follow Him faithfully. And the end of His path is always good and perfectly intertwined with the (greater) image of His plan of salvation for mankind. Yes, because He is always good for all of us and knows exactly what we need most. Hebrews 11:40b TB Indonesia, without us they cannot come to perfection. The perfection of faith is not owned by one person alone but is the fulfillment of the entire faith of God's children together from beginning to the end.
When Hannah prayed, her prayers were full of pain, grief. Her prayer was then followed by a promise, a Nazarite vow. If God would answer me, this child will be given back to God, to live the life of the Lord's Nazarite. A life full of spiritual discipline, where his hair will never touch a razor. And God answered this prayer.
Why did God deliberately close her womb? God seemed to be looking for a heart that was willing to surrender a life given as a Nazirite, fully given back to the Lord, as God's chosen, in His holiness, to serve Him only. Being a Nazarite of God, or being consecrated only to God, has the meaning of being separated exclusively for God alone. A person who must not drink wine nor eat something unclean. He has to keep all God's commandments. And the razor shouldn't touch his hair. Judges 13:5, 7, 14. 1 Samuel 1:11.
Yes, the condition of Israel described above made the Lord grieved (like Hannah), especially because till Hannah came to the scene, there had not been anyone who wanted to turn back to God and be used by Him to restore this situation. This saddened God even more. So when Hannah prayed, a Nazirite prayer, God hearken. When Hannah bravely gave back the child she asked to be God's Nazarite after he was weaned (1 Samuel 1:23-24), God found someone whom God could use to restore Israel. Hannah had a child, God had a prophet.
And Samuel grew, and the LORD was with him and let none of his words fall to the ground. And all Israel from Dan to Beersheba knew that Samuel was established as a prophet of the LORD. And the LORD appeared again at Shiloh, for the LORD revealed himself to Samuel at Shiloh by the word of the LORD.
And the word of Samuel came to all Israel.
1 Samuel 3:19-21, 1 Samuel 4:1.
The first verse of 1 Samuel 3 showed the absence of God, Samuel then came to the scene. The last verse of 1 Samuel 3 showed the return of the Lord to Israel!
11 Juni 2020
Arnold Sigik