(Kalau Anda memilih membaca versi Indonesia, silahkan klik disini.)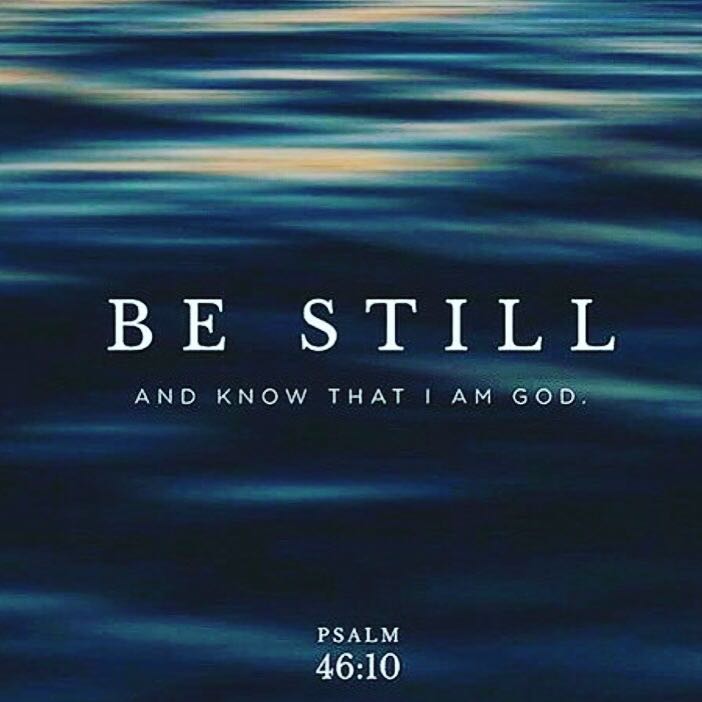 Be still and know that I am God, Psalm 46:10. When the Lord mentioned to us about this, all He wants for us is to be still and let Him be as what He is supposed to be: GOD. But most of the time, we can't. Naturally, as human beings, we always try to defend ourselves. We will make so many backup plans when the original one would fail. We will protect ourselves as much as possible in every way especially when facing difficult times.
Like a worm that would be plucked from the soil then put into a hot asphalt on the street, we can't and will not be still. We will always search for a solution and answer urgently. But the Lord told us, be still! Be still is a shout from Him to tell us to shut our mouth (first), be calm in our action, not panicking and leave everything into His hands, 1 Peter 5:7. Earlier, Peter also mentioned to calm ourselves, get control of ourselves so we can pray, 1 Peter 4:7. But be still literally means: freeze! It is like the police shout to the bad people when pointing their guns at them. Yes, we should learn to literally stop everything of what we are trying to do to save ourselves. In other translations, be still means to let go, or even to drop it! We need to let go, drop those anxieties. Leave everything into God's hands. Isn't He God and we are not? When things get out of control, we forget to realize that He is still God. We would swift to think that He has missed it! No, He is not. It is only our mind, more than it is our heart fails to believe in Him.
Please be aware that many of us, even most, love a good talk and sweet words coming out from our mouth but our heart shows a different path. Our behavior shows what we really believe. How we would react or respond to our situation will show who we are before Him and that can't be fake! Some others will even say that how less (or much) worries we show determine how much (or less) our levels of faith into Him. So learn to be still, let them go, drop them all and let God be God in us and through us!
There are 3 things at least we should see in be still.
First of all, Know His Power

Know that I am GOD, which means literally the first thing that He got the Power we will need. And many of us believe that there is nothing impossible, Luke 1:37. But then like the father of the child at Mark 9:23-24, we don't believe into His Word and Promise to us. We (probably) believe He can, yes. But then we would still excuse ourselves to say that would He willing to help me? We choose to stay worried, as we have found that worry eases us. Not in sense of giving us peace but if we do not worry, we feel we do nothing! Jesus mentioned that worry would not lengthen the span of our life, Matthew 6:27. But we think we need to be worry like it helps us. No, your worry and anxiety will not empty your tomorrow of its sorrows. They will only empty your today of its joy and peace!
So please believe that there is nothing impossible for Him and for the one who believes as well, Mark 9:23. Isn't that we carry the same Spirit of the Spirit that rose Jesus from the dead? His Power is so great that nothing could stop it, nothing could overcome it. And God's power has no limit, it is our imagination that limits His Power to work in and through us. But the real issue is this, many times we fail to believe His Power is at work for us because we never stay with Him. We do not attach ourselves to the Vine, John 15:4-5. And we would only come to Him when we need Him. If there is no need of Him, we do not bother to show up into His Presence! That is the very reason His Power is dull, not at work for us!
We need to stay close to Him at all the time. We need to be attached. As we will not be able to bear fruit on our own, nor to use His Power without getting pluck to the power source! Read about Lot. We have been so busy defending, doing this and that in order to save ourselves. We forgot that we should come to the very presence of Him and sit still to let His Power to work for our behalf. Get attach to Him, focus on establishing your altar. Keep your eyes on Jesus through prayer, we will see His Infinite Power works for us!
Next, Understand His Timing

Not only His Power we need to know, but also to understand His Timing. As we are bound to His Presence we should understand that His Power would also work according to His Timing as well. And His Timing is much different from ours. God is at work according to the time He has set for everything. Ecclesiastes 3:1. God is in no hurry, nor slowing down. But He will be always on time according to His Timing.
We like to believe that He would never be late, even use John 11 to back up our opinion. No, in John 11:6 He purposely waits for another 2 days. He came so late where Lazarus was already buried for 4 days indeed. Mary and Martha cried out wishing He would not be late in helping them. But then if He would be there on time as they (or we) wished for, we would only know Lazarus as the one that healed and not the one that resurrected. Most of us love big miracles but only a few are willing to pay the price. And many times, the price to pay is the tense of the due time that is so close but yet God feels so far away. Would we wait? And will we let go if He would pass our due time? Will it break our heart or will we choose to believe He has a better plan (or even a better timing) for us?
Understanding God's Timing is not easy as it means we should give up our time. We should adjust to His and not forcing Him to follow ours. This doesn't mean that we surrender to fate but as simply believing He has a better timing for us. Being mature means like this that we would not get angry nor upset to Him to whenever He decides to answer our prayer. Even when it passes our due time. God's Timing is the best. It will give us a second opportunity and a better situation. And when it works with His Power than we will see that He can accomplish whatever we ask in seconds of the things we have been trying out for years!
Lastly, Embrace His Ways

God's Timing is also so connected to His Ways. We should not only know His Power and understand His Timing but also to embrace His Ways. In other words, we should learn to change direction and make the necessary turn when it needs to in order to follow Him and His Ways.
Isaiah 55:9 mentioned to us that His Ways are as high as the heavens from the earth. And even His thoughts as well. Funny, we read and memorize this but then when He shows up with a different agenda for us, we questioned Him like He needs to answer to us in order to arrange our life. This attitude is actually showing to us that deep down in our hearts, we are still the King of our own life. Not Him as we like declared on Sunday morning!
No, don't ask. Just follow Him. He will surely tell us all the reasons we need know when He has a different plan than ours, but most of the time He will ask us to take the first step of faith in believing Him. I believe He will explain the whole thing along the way, but if you know all the answers at the beginning: would it still be called faith? Take the first step, change your direction and make your turn to follow Him.
God is GOOD! His Ways are perfect, according to His Timing which is always on time exactly, that works through the Power of Him that is actually getting much bigger when we sit still and let Him be the GOD as what He supposedly be in us!